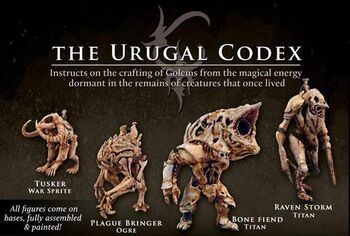 Golems crafted from the
Arcanum
Urugal are fashioned from the bones of the dead that were pulled from living flesh in a corrupt ritual*. The stamina and speed of the Urugal Golems make them ideal for close combat; they are the masters of up-close violence and death magic.
Some contest that the bones are all obtained from living sources or that the ritual to sanctify bones for use in creating Urugal golems is corrupt. Respect and worship of death is part of ethnic Urugal practices though these practices are seen as unsavory by other cultural groups.
Expansions
Edit
The Symbol of the Urugal
Edit
Both the Mercenary Kings banner and the Codex of the Arcanum Urugal make use of this symbol.
Ad blocker interference detected!
Wikia is a free-to-use site that makes money from advertising. We have a modified experience for viewers using ad blockers

Wikia is not accessible if you've made further modifications. Remove the custom ad blocker rule(s) and the page will load as expected.